Greetings;
"To-morrow, and to-morrow, and to-morrow, Creeps in this petty pace from day to day, To the last syllable of recorded time And all our yesterdays have lighted fools The way to dusty death.  Out, out, brief candle!  Life's but a walking shadow, a poor player, That struts and frets his hour upon the stage, And then is heard no more. It is a tale Told by an idiot, full of sound and fury, Signifying nothing…." /The Bard, of course
Q4 rail earnings didn't actually signify nothing, and there are some themes to consider. The petty pace was not just time, but me, so I will endeavor to hurry up the pace lest my writings are considered full of sound and fury….leaving me labeled, well you get the idea.  The full accounting of the railroads' Q4/2019 (and 2020 Outlook) cannot, of course, be completed until Berkshire Hathaway's BNSF reports (supposedly 2/24); perhaps we might even get some info from GWRR from deep within the family hold of Brookfield.  In any event, switching from the sublime (Shakespeare) to the ridiculous (the Buckinghams), herewith the first group of rails, CSX and UNP).  The song list will proceed from "Kind of a Drag" to "Viva Mexico! (Viva America!)" followed by "I Can See Clearly Now the Rain Has Gone" and finally(or until BNSF lends itself to some inspiration) a Hip version of "Ahead by a Century".  And of course, the managements are making their annual Spring Golf, I mean, Florida-based (for some reason) Investor Conference Tour in the next weeks….
First, a message from Washington:
Trade –
"The phase one trade deal (with China") essentially takes China from a headwind and sets it up to be a potential tailwind" /CEO Lance Fritz, Union Pacific
USMCA (almost) put to bed; China's virus issues disrupt global supply chains (and puts US Ag purchases at risk). 
USMCA/NAFTA 2.0 is waiting on Canada's approval as of this writing, but that's assured.  It does put some regulatory surety back into place (albeit with a 6-year review).  The White House says it will add 1.2 points to US GDP, the US's own International Trade Commission says it's more likely 0.35 points (and that owing to the somewhat reduced uncertainty; however The President's proclamation of possible further metals tariffs show that is no sure thing).  The 2082-page document (!) has yielded at least one chestnut – the labor wage issue, designed apparently to move some auto (etc) business to the US, is not inflation-indexed….two other thoughts:

Even the Wall Street Journal is skeptical of the "big win", to wit: the USMCA "is an amended, re-branded NAFTA, along with some new provisions (taken from) the (Obama) TPP"….
Although most trade observers (notably PWC) have said the international auto industry was the most affected in terms of supply chain restructuring, the impact of the virus on China and the weakened labor rules may mitigate against that; in any event, it is hardly boom times ahead for auto manufacturing….sales were down 2% last year (and Mexican production down 3%)
Meanwhile, the Mexican economy actually contracted in Q4/19 (-0.3%) and is expected to lag North American growth again in '20 (consensus is +1%)
The China "mini-deal" had already seen some backlash before the great disruption of the new virus (centered on Wuhan, which the FT calls "the biggest transport hub in inland China"); Goldman has already estimated that the virus has taken fully 1.2 points off of Q1 Chinese GDP….This is obviously a human tragedy but also puts extreme pressure on trade over the short term (the Baltic Dry Freight index is now in negative territory) and, if the impact from the 2011 Japanese earthquake is a model, will have lasting global economic impacts….

Chinese exports to the US were down 11% last year.
The Ag purchase deal with the US was for 2 years (only); the US Farm Report thought, before the virus news, that it would take a "minimum of 4 months" to see any impact.
China may now have trouble hitting those targets.
Those targets were already suspect – note the decline in grain prices, and the moribund performance of the futures since the signing - more than the usual "sell on the news" pattern.
Other nations have noticed the move to "managed" from "free" trade – the EU, Brazil, etc – and we should expect WTO activity (although that is, naturally, less effective these days).
Rail Earnings Part One - Kind of a Drag….Rail earnings started off slowly, with 2 of the first three reports below consensus….CSX and Union Pacific both reported pressured earnings, and although they are in different stages of their PSR/PHR development, they did show 5 similar trends, beyond both showing slight EPS declines and shareholder payouts that dwarfed both Capex (and in the case of CSX, free cash generated)::
Both railroads claim to have more to go in terms of PSR-fired efficiency and both targeted a 59% OR for 2020 (and both faced questions on the order of "Is that all there is?").
Both reported good operating and service metric improvements (and both have or will have new sets of numbers to deal with).  These improvements were such that the song I placed them under might well be inappropriate – maybe they are about to burst into "Papa's Got a Brand New Bag"?  Or "Take Me Out to  the Ballgame (see below)?  And, as asked of UNP, both should think seriously, given the changes, opportunities, succession issues, etc, about having some form of Investor Day in 2020 (note – UNP's last one, recall, was made almost instantly nugatory).
Both faced/are facing economic/political volume headwinds, notably in coal, but both see an inflection against easy comparisons in H2/20; the volume trough might well have been the turn of the year (a sentiment echoed by other rails). There was lots of pushback on "conservative guidance"; at the same time there were questions on headcount reductions and preparedness for the inflection as well as how much more can come out (note – the headcount reductions in rails are beginning to get public scrutiny in an election year….)
Both are done with restructuring their intermodal offerings ("de-marketing"), and while CSX delineated it and UNP did not (no one asked!), it is clear that for both of them, intermodal will be a hoped-for growth area (with economic and trade caveats, of course, and the speed of the return of trucking capacity equilibrium all being external factors).  UNP has in fact reinstituted some 60 lanes and interchange points in its "premium'"(IM) sector.
And, interestingly, both earnings calls featured prominent Canadian operating/PSR veteran hires opining on….pricing and marketing and volumes, oh boy!  Not that there is anything wrong with that, it's just not usual. 

On a side note, when asked that old chestnut "What inning are you in (in terms of PSR progress)?" UNP COO Jim Vena switched the sports analogy to….football ("midfield" was the answer, I guess meaning ~ halftime but confusing a bit – understandable when one takes into account that Canadians grow up with a cut version of our football where every team is called some version of "Roughriders").
Back to baseball terms (Pitchers & Catchers reported today), I would say UNP still has efficiency power potential – doubles hitter – while the more experienced CSX is down to singles on pure productivity – but lots of them.
CSX was impacted by the overall headwinds (the manufacturing recession, trade issues, tough comparisons) and some more local (the de-marketing, coal – revenues down 22% - particularly export coal weakness, the Philly refinery explosion, the GM strike – NS has traditionally been a Ford shop).  So, revenues declined 8% on a 7% volume drop (that export coal margin whammy).  Expenses dropped 9% and headcount by 7% - efficiency.  The downbeat report was noticed – the WSJ headline was "CSX: Rail Revenue Drops; 2020 Forecast Weak" (my emphasis).  But, are better times ahead?  Not in coal, of course, but the rest should be up - in IM and merchandise (CEO Jim Foote:  "80% of our business (base) should be doing extremely well") – and there is even talk in Philadelphia of rebuilding the refinery.  CSX predicted flat-to-down revenue but that inflection around mid-year.  The PSR track record in intermodal going back to CN is prune-to-grow over a several-year period….
Their Q4/19 OR improved, though not (no longer?) by much, 30bps to 60%; the call for an essentially flat FY19 OR (59%E vs 58.4 2020A) was met with a fair amount of resistance from analysts.
They had a terrific operating/service quarter (under the new metrics, to be sure) – notably car trip plan success in carload (82.8% up from 67.3% and IM (95.5% from 73.4%).  Train velocity improved 12% and dwell by 9% in the quarter.  Crew starts were down 1% more than the carload drop; locos were down 10% YOY.  It's worth noting that the 22% decline in Other Revenue was due in large part to lower demurrage (etc) revenue – which combined with the trip plan compliance improvement adds real credence to the claim that this policy was "behavior change encouragement" not simply "another source of revenue" (it also was a bot of "existing contract rules enforcement").
2019 was a great year for CSX safety improvement – FY personal injury rate -15% and train accident rate by 41% - PSR isn't about safety risk; however, the PI rate worsened by 12% in the quarter….
Capex was down another 5% in 2019, but should be flattish in 2020; CSX stated that "core Capex" was actually up 13%.  The Capex level was 48% of "adjusted free cash flow before dividends; shareholder distributions were 2.5X Capex.  Long term debt increased by over $1.2B (9%; interest expense increased by 11%).
CSX management compensation plan expires, I believe, at year-end….Has anyone heard from EVP Ed Harris?
Union Pacific also suffered from severe headwinds, mostly but not entirely in "Energy" (coal down 22%, sand fully 53%) and "Premium" (down 15%); overall volumes were down 11% (double-digit!), revenues -9%.  EPS was off 5%.  But charged by a $535mm productivity gain (versus a goal of $500mm) and (fueled by) a 17% drop in the workforce, their OR actually declined 190bps to 59.7%.  That success, and the plans for another ~$500mm in productivity (and an 8% headcount reduction) – as well as a guidance of an increase in volume (second-half weighted, to be sure, although the spring flooding last year will help 2020 comparisons), led to the many (many) questions on UNP's "conservative" guidance (~160bps in OR).  UNP produced a ROIC of 15.1%, down only 0.1 points – and thank you UNP for reporting this!
Some other reflections:
Industrials (flat) did well, on a relative basis – and that's with Plastics up only 2% (where is that Texas boom?).  Meanwhile, within Ag, grain only being down 1% during the trade war seems like a pretty good performance.  However, to get a better overall idea of the markets, in this and all commodity sectors we look forward to comparing to BNSF later this month….).
Intermodal, affected by trade "policy", the global and US economy, and loose truck capacity, was a  black hole.  How much was their own rationalization wasn't delineated, unfortunately.  Domestic IM was down 8%; International down 23% (versus tough comparisons – that will continue into Q1; and this is excluding Coronavirus impacts).  And finished vehicles dropped 13%, well below the overall production/sales numbers.  For 2020 that latter category received a "-" forecast while both IM sectors received a "?" from CMO Kenny Rocker.  Again, the PSR-to-PHR pattern in IM since CN is a de-marketing to growth approach; UNP will lap, I believe, their de-marketing impact, and as of February 1 re-started almost 60 lanes (with CSX, and NS) that were cut at the beginning of this journey in 2018; the IM community had some questions about the scale of the announcement.
Operationally UNP improved in all six big KPIs they list car velocity by 5% (train velocity by 1%) and dwell by 13%; car trip plan compliance by 9 points to 76%; workforce productivity by 4% (as pointed out, despite the big volume drop).   The workforce was down by 17%, as noted, and train length was 16% longer – those are not unrelated statistics

COO Vena noted that there were, uh, more yards to gain – mentioning train length (and there was $150mm in additional Capex allocated for this), utilizing newly created "latent capacity", headcount (forecast -8%; much questioned), fuel efficiency, locomotives and terminals/yards consolidation (currently focused on Chicago).
There was discussion of safety, and within the 5% increase in "other expenses," there was an increase in casualty costs – but, no numbers!

Capex will decline – from $3.2B to $2.95B, but adding back that $150mm in specific targeted siding lengthening programs brings it back to even (ish).  In comparison, dividends (raised twice last year) totaled $2.6B and share buybacks were $5.8B.  UNP needs no more locos for a while, and PTC Capex is winding down. 
Etc:
From Jim Blaze & Railway Age: Click HERE. 
From Chuck Baker as a birthday gift to me (with a Super Bowl twist) – warning: NOT (too) rail-related: Click HERE.
So, the game didn't turn out the way anyone wanted, but #44 had a TD….
Next, KSU and NSC, where we go from things may be getting better too:
I can see clearly now the rain is gone
I can see all obstacles in my way
Gone are the dark clouds that had me blind
It's gonna be a bright (bright)
Bright (bright) sunshiny day
Did I, by chance, mention that….Pitchers & Catchers reported today?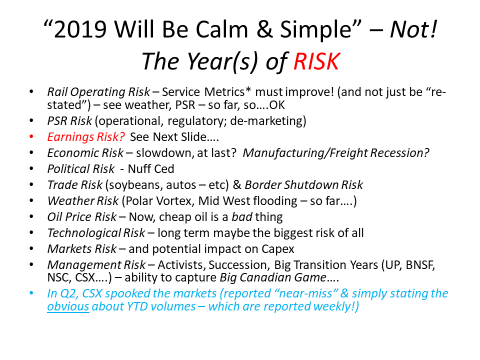 Anthony B. Hatch
abh consulting
www.abhatchconsulting.com
abh18@mindspring.com