Greetings and Happy New Year! 
I hope to see you on the road!  Although the holiday season is slipping away, I thought I would add one last stocking-stuffer (see the cartoon, below) and open the year with a quick update on late-year rail-related events, and I have also attached my last bit as it came out when I am sure many of you were at Bowl games.  I am off next week to the NRC (National Railroad Construction) annual conference. I state this not to play an ABH version of "Where's Waldo?" but to see if you, Dear Reader, might be there.  And to highlight what I hope to learn, primarily a preview of 2020 Capex plans but also hearing from two (of three) STB Commissioners (Fuchs & Oberman), the DC legislative panel, and a PTC update from the Class One experts.  Oh, and CP CEO Keith Creel.  So I will have lots to digest and then disgorge, as well as to share (my presentation, on a slightly different tack, is attached).  For the STB and DC, while the much-feared hearings didn't produce as much heat as I had feared, 2020 will still be a very big year…. The same (big-time speakers, lots of info) goes for MARS (Midwest Association of Railroad Shippers) later on this month in Chicagoland. (View conference agenda) 900+ railroaders, suppliers and shippers, and presentations by three C1 CEOs (UP, KCS, and CN) as well as updates on Uber Freight and CREATE….Although the stock market ended on a super-high note, it looks like Q4 results (while just fine) will include downbeat expectations and another "earnings estimate reset".  CSX reports on January 16th – my Preview will surely beat that. I promise.
Speaking of the CEO of the Kansas City Southern, Pat Ottensmeyer, he won Railway Age's "Railroader of the Year" award, which was well-deserved.  So well deserved, in fact, that it follows Progressive Railroading's 2019 "Railroad Innovator of the Year" awarded at RailTrends 2019, in November…. Pat's double is terrific.  But it may….just….pale in comparison to his former boss, Mike Haverty, becoming part of the ownership group of the Kansas City Royals!
Congratulations are in order!  Just in time for the largest and only short line holding company, GWR, to go private - 45-G, which I had frankly not only given up for DOA but had contracted 45-G discussion fatigue, has been given new (and longer) life.  The investment tax credit runs from (retroactively) January 1, 2018, through December 31, 2022.  This, along with the modified RRIF "Express' program, is a pretty big deal (for the private short lines as well as their publicly traded C1 partners); it will enable the short lines to better connect as their role grows under PSR.  It was always extremely popular but nonetheless hard to pass, so congrats to the ASLRRA & NRC (et al).
Trade update (sigh) – The White House expects to sign the phase-one "mini-deal" with China on January 15.  The details have yet to be made public, but there appears to be skepticism concerning the scale of Chinese Ag purchases (which would, in any case, violate existing WTO rules on competition and likely cause protest and more from Canada and Australia (etc).
Traffic remains lousy, to put it too mildly, and far from reaching an inflection point (back upwards, anyway), appears to have closed the year with a thud.  The AAR's RTI monthly traffic piece is always interesting and important, probably even more so with the December/12 months "edition" due to come out shortly.  November's made for some tough reading – the 10th straight month for declines in overall (carload + intermodal) volume in the USA, with Canada heading south (the CN strike had an impact of course but Canada is slowing down – GDP grew only 1.3% in Q3!) and Mexico the "best" performer at "only" down 2% in carload – and -3% in IM.  So overall North American traffic in November was down 7.5% (CL -8, IM -7%).    On the IM side, specifically, IANA's numbers give a better breakout, showing November down slightly over 6% (these numbers include IMCs, etc).  but with the detail, we can see that TOFC (trailers) were down by about a quarter, giving up those safety-valve gains from last year (domestic containers, the tip of the spear, were down "only"3%).  In addition, we note the big hit to the number one exported container business of this century – scrap and waste paper to China, banned starting the beginning of the year, unrelated (and in addition to the trade war issues (furniture, previously the #1 import), electronics, etc.
But better days are ahead, right?  Well, in Larry Gross's November wrap he sees "stabilization" on the IM front for next year.  But we have little more than optical comparisons and faith (and truckload troubles) to bolster that conviction that we both share – because week 51 traffic was worse than the November level – down over 9% for the continent, almost 11% for the USA….
The subject of future study - the volumes have impacted the railcar leasing business, of course, from a secular (coal and let's be blunt, sand) as well as a cyclical basis; adding to that impact and likely even superseding it is the PSR effect.  Investors have demanded reduced car counts as a form of proof that PSR is taking and that management is serious about change (somehow, still an issue).  The impact of PSR on rail fleets and their owners is something that Dick (Mr. Railcar!") Kloster and I in conjunction with his new virtual group, Integrity Rail Partners, hope to look into soonest.  My gut, for what it's worth, says that faster turn times will take a large one-time toll (on mostly older equipment) and that the "pivot to growth" stage will lead to a fleet renewal.  Most of the parked cars are older or secular losers both in their own ways approaching obsolescence.  But rail cars, overall, hold their value – that is why they were among – if not the first - groups back in the markets after the Crash, and why there always seems to be new money replacing the old.  The WSJ posited that "Rail Cars are Posing a Problem for Banks", and indeed, it's a tough market out there.  My gut also tells me that it is more likely a better time to buy a car fleet than to sell one, but I suspect that at least one very large Cali-based bank will disagree with me on that.
Trains Magazine honors me again with an interview with their chief rail correspondent Bill Stephens – attached.  The last two issues have been interesting – first a cover on Texas, surely the epicenter of global freight railroading (and with growth) – it is at or above a quarter of the BNSF and UP volumes and the gateway for the KCS.  That issue was also Fred Frailey's last.  Something tells that like the protests of another Dick (Nixon in 1962) we might yet have him to "kick around" a bit longer.  It featured an interview with Wabtec's CEO Rafael Santana that dovetailed nicely with his RailTrends presentation (it also showed a photo of the Wabtec/BNSF demonstration battery powered loco).  The current issue, aside from me, has other (?) delights, both from Mr. Stephens, the best in the business:
Who, however, gets it wrong, wrong, wrong in asking in his premier, post FF column, "Is the shortline bubble about to burst?" which posits that "dumb money" (not his words, his quote) was driving up the valuations, and would lead to an inevitable collapse and maybe even a cessation of business.  If you see slide 6 of my presentation, it is the emergence of a new private buyer class, infrastructure funds, that have helped drive up the valuations., but these guys, not undefeated, are far from dumb and have looooong term horizons.  The idea that they don't do proper due diligence is, I can tell you from experience, laughable.

But Bill returns to the ring nicely with his article "After Hunter:  What is the next management rail-trend?"  OK, I inserted the "rail" part, but the idea that there will be a post-PSR (or, as I like to call it a PHR) rail management trend coming and that it will be on the lines of "pivot to growth" is spot-on…..
Other stuff:
This doesn't sound good: (Read The Atlantic article) Railroads actively aiding climate change deniers?  So "The Atlantic" reports; note that this doesn't involve the current or prior occupants of the AAR's top office.

I misquoted STB Vice Chairman Patrick Fuchs in his excellent "rails and regulation by the numbers" speech at RailTrends – the "-77%" represented the YOY reduction in cars held – an impressive service turnaround.

CN reported more changes, moving Doug MacDonald to SVP Information and Technology (sic), still under the COO while a CIO is still sought….

And UNP made changes, too – reducing and rearranging the 4 reporting marketing groups (Energy, Ag, Industrial, and Premium) into 3 – Industrial, Premium and welcome "Bulk"; they have also restated (or are in the process) their reporting service metrics….

Woof….FedEx had a bad holiday season; you'd have thought they carried coal….

CP completed the CMQ short line acquisition already….

The recent spending bill included a provision to restore the pension health for (unionized) coal miners….

A federal judge issued a restraining order against the so-called "AB5" rules on driver employees (vs. owner-operators) that could cause disruptions to drayage in the sunshine state; meanwhile, it's being looked at by the Port Authority of NYNJ as well….

Excellent WSJ headline:  "It's always Infrastructure Week" in DC….except when it isn't.

Maersk expects a bunch of landside logistics M&A for 2020, on the one hand, a "back to the future" strategy (in the face of protectionism, at least over the near term) and on the other, a franchise extension plan much like CN's.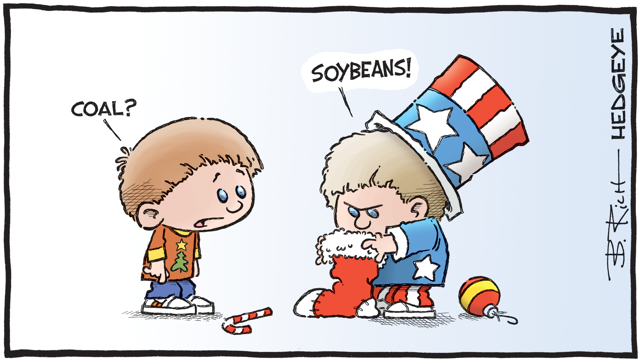 Anthony B. Hatch
abh consulting
www.abhatchconsulting.com
abh18@mindspring.com