Other outside experts like FTR offer these intermodal points
FTR Transportation Intelligence experts predict that over roughly the next two months, all international traffic will remain weak due to global supply chain disruptions.
The upside? FTR's CEO Eric Starks described this week how some supply chains will see imported inventories turn from a surplus on-hand to a need for replenishment. That then could generate added rai- hauled replacement intermodal traffic.
In this graphic, Starks points out how rail's intermodal market share has stalled recently compared to trucking's share in the long-distance lanes. In part, this FTR graph uses source data from the Intermodal Association of North America.  The domestic 53-foot containers by rail are slightly negative as shippers are necessarily using rail as the first mode choice over the past year. And international maritime 40-containers are dropping on a percentage basis. Some of this pattern involves complex transloading logistics decisions by shippers – and shifts are based on lower spot rate truck pricing. Clearly, intermodal rail faces dynamic competition.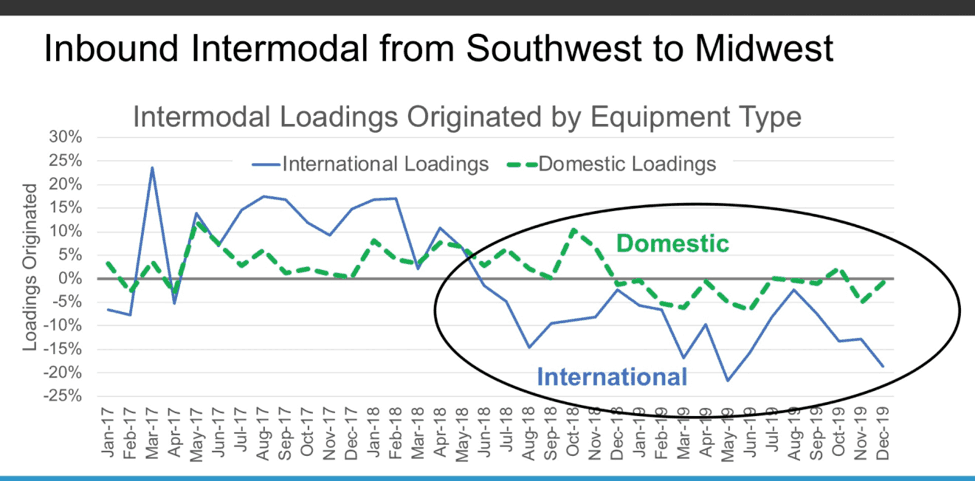 In addition, FreightWaves SONAR has a similar chart. It also illustrates that intermodal has lost share to long-haul trucking.