This week's DHL Supply Chain Pricing Power Index: 40 (Shippers)
Last week's DHL Supply Chain Pricing Power Index: 25 (Shippers)
Three-month DHL Supply Chain Pricing Power Index Outlook: 35 (Shippers)
The DHL Supply Chain Pricing Power Index uses the analytics and data contained in FreightWaves SONAR to analyze the market and estimate the negotiating power for rates between shippers and carriers.
Fear of the coronavirus is getting worse with every passing day. American consumers have begun panic buying and stocking up on goods. This is causing a ripple up the supply chain, and carriers are now in a much better position of power than much of the last year. Drivers are not only rejecting loads at contracted rates, but also leaving the market in attempts to self-quarantine. 
The Pricing Power Index is based on the following indicators:
Load volumes: Absolute levels and momentum positive for carriers
Panic buying is causing an unprecedented surge in domestic freight volumes. The outbound tender volume index is now at 11,224.85, which is the highest point in its three-year history. After surging 6% last week, OTVI is up another 7% since then. Two weeks ago, we predicted a jump in volumes from a typical "March bump," but we did not properly forecast this type of rise. This surge is not typical, nor will it last. But for now, carriers are in a position to reject contract loads to test the spot rate because shippers are reeling to restock goods as fast as possible. 
Reefer volumes have ticked up over the past week, but the majority of this upswing is from increasing dry van volumes. It is dry van volumes that are driving the index higher – VOTVI is at its highest point ever.  We do not think this volume surge can or will last, but for now shippers are at the hands of carriers to meet this spike in demand.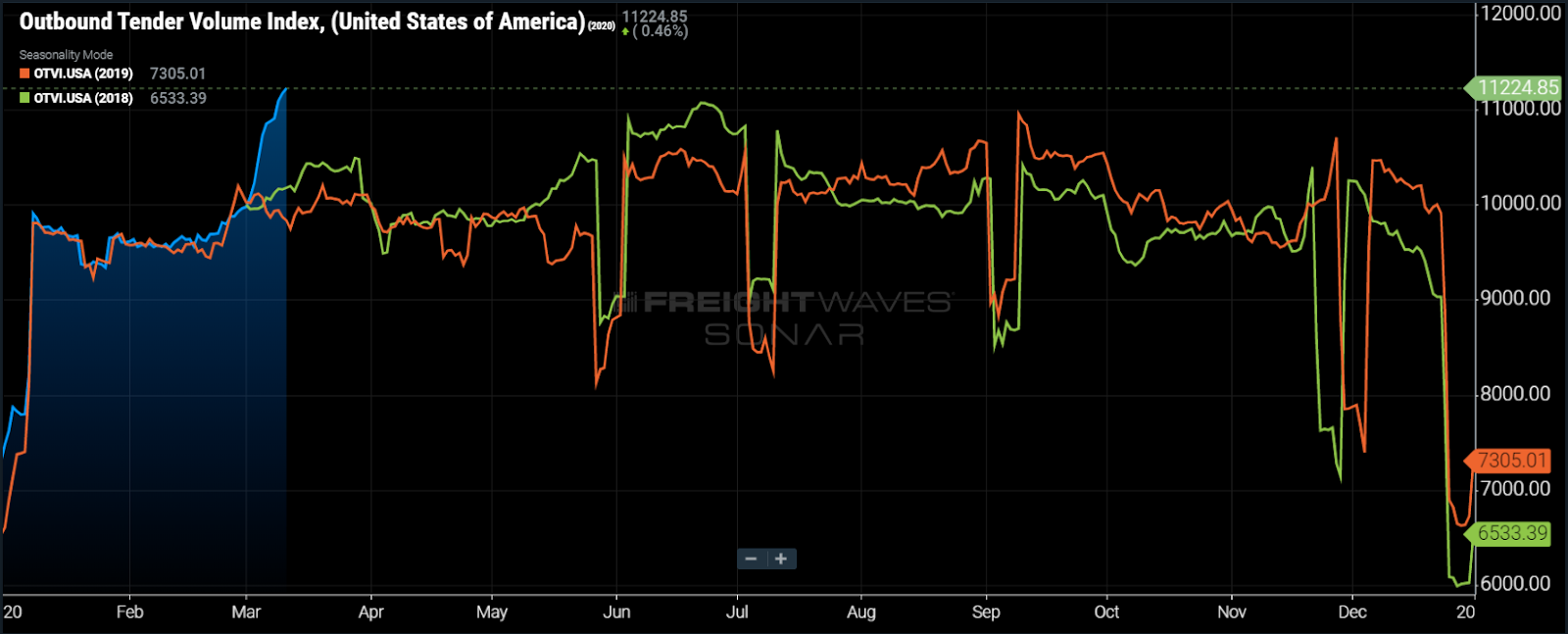 SONAR: OTVI.USA (Blue — 2020; Orange — 2019; Green — 2018)